The Green Bank Is Hiring! Commercial Business Manager
Close Date: March 19, 2021 Submit Required Cover Letter and Resume to HR@mcgreenbank.org The Green…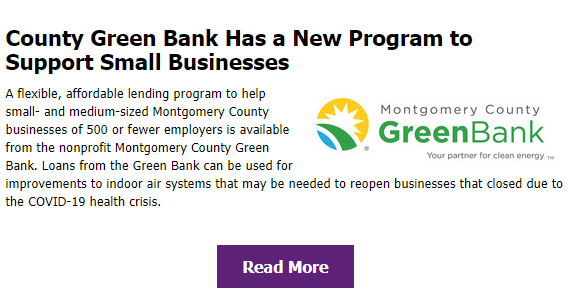 Small Business Support Program In Montgomery County Update
The Green Bank's Small Business Savings Support (SBESS) program was mentioned in the Montgomery County's…
New Commercial Solar PPA Program: Financing Solution for Small Businesses and Nonprofits
January 26, 2021 For Immediate Release Media contact: Tom Deyo, Montgomery County Green Bank Chief…
Just Released: 2020 Annual Report
The Montgomery County Green Bank's 2020 Annual Report can be found here.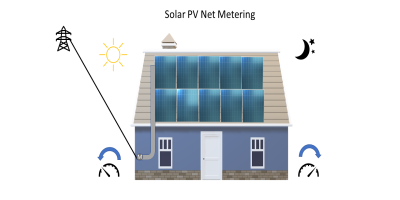 Net Metering Solar PV – How does it work and is it guaranteed?
Cindy McCabe – January 2021 Let's start by going over the metering of electricity. All…
Montgomery County Green Bank Partners with Sandy Spring Bank to Provide Energy-Saving Loan to Glen Manor Condominiums in Silver Spring
Loan Program Reduces Energy Consumption and Greenhouse Gas Emissions in the County September 29, 2020…
Standing Together to Fight Systemic Racism and Injustice
We mourn the unjustified loss of the lives of George Floyd, Ahmaud Arbery, and Breonna…
New Video – Helping Building Owners Achieve Savings, Comfort, and Health Outcomes.
The Montgomery County Green Bank is here to help building owners achieve savings, comfort, and…
Green Partners: RIFE International
Green Partners: RIFE International — Award Winning Energy Solutions Welcome to our Green Partners series,…
Our 2019 Annual Report is Now Available
Plase read about our accomplishments in 2019 in our annual report found here.
Use CLEER as a Marketing Tool to Increase Project Scopes for 2020 Projects
Use CLEER as a Marketing Tool to Increase Project Scopes for 2020 Projects MCGB has…
Request For Proposals for Financing of Clean Energy Improvements for Commercial Properties
Please review here the Request For Proposals for Financing of Clean Energy Improvements for Commercial…