Cindy McCabe – December 2020
Remote monitoring is an important and often overlooked part of a solar PV system, and here's why –  If your solar system turns off unexpectedly, you won't automatically know that something happened in your house.  You won't have the telltale signs like you would if your home heat or AC goes out because your home is still connected to the electric grid for power and everything will continue to be powered as it should.
Remote monitoring will give you the peace of mind of knowing that your solar system is working or if it may have stopped working due to damage from nature or from a rare manufacturer defect. You will want to know about any issues as quickly as possible so you can fix your system as soon as your installer is available, and your monitoring software will provide this information for you.
A remote monitoring system will alert your solar installer to any potential problems within days of a consistent outage or a significant drop in production. If you are unsure of whether or not you have monitoring, check with your installer on whether monitoring is included in your contract.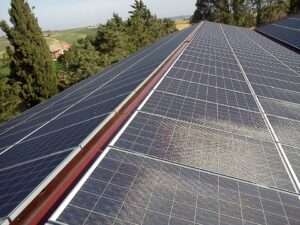 This monitoring is also needed in order to access the Solar Renewable Energy Credit, or SREC market.  Basically, SRECs are carbon offset credits that the owner of the solar system gains with solar production and the owner can sell these credits in the SREC market. We will address incentives including SRECs in more detail in a future Blog.
Remote monitoring has different components, and it includes a device or devices that connect to your internet router and which transmit information from your solar system's inverter to the inverter manufacturer's monitoring database. If there is an ongoing outage, your installer will be notified to check the system's operation.  You will need to have a broadband internet connection to use remote monitoring. The solar installer will check your Wi-Fi connection during your site survey.  Most wired Wi-Fi connections qualify to use monitoring, and the data usage is negligible.
Dan Book, Ipsun Solar Operations and Maintenance Solar and Dispatch Manager says, "I think PV system monitoring is really important because it empowers the homeowner to keep an eye on their system.  It gives them full transparency on what's going on, which makes a solar system a unique device for your house.  Unfortunately, we do not have monitoring on things like dishwashers and washing machines.  I think monitoring is a great tool that everyone should use."
Remote monitoring gathers and stores information from the inverter or inverters (think of them as the brains) of your solar system.  SolarEdge and Enphase are two of the popular inverter manufacturers used by solar installers in this area. Both of these companies offer online monitoring and a phone app, like Enphase's My Enlighten, for both installers and customers.  Both also have an automatic notification system set up to alert the installer when production has both dropped below a pre-determined threshold and for a sustained period, ranging from 24-72 hours. This software is monitoring your solar production, but it will not automatically produce an alert unless the outage is sustained because many times an inverter will re-cycle and fix itself; which is great!
In the end, you want to know if something is wrong with your solar system, and remote monitoring is the tool that gives you this peace of mind.  Ask you installer for more information and read your contract for warranty details.
Cindy McCabe is the Residential Solar Program Manager for the Montgomery County Green Bank. She has worked in the solar industry for the past six years with responsibilities including project management, solar system design, inspection coordination, site survey coordination, operations management, and sales. Cindy lives in Rockville, MD and considers herself an avid environmentalist.