On December 12, County Executive Marc Elrich, Councilmember Tom Hucker, Councilmember Andrew Friedson,  Assistant Chief Administrative Officer Adriana Hochberg, building owners The American Fisheries Society, The Nature Conservancy, Recurrent Innovative Solutions – the project contractor, Revere Bank, Pepco, and the Montgomery County Green Bank gathered to announce and celebrate the significant energy efficiency accomplishments of the Glascock Office Building.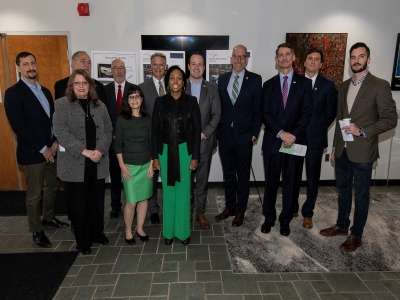 The occasion also recognized the role of the Montgomery County Green Bank in support of the energy savings improvements through its Commercial Loan for Energy Effieincy and Renewables (CLEER) program in partnership with Revere Bank.  Under CLEER, Revere Bank funded the installation of an energy-efficient 120-ton rooftop HVAC unit, the final and critical project in a series of energy efficiency upgrades by the condo building owners.  This HVAC system installed by Recurrent Innovative Solutions will provide nearly 30%% more in energy savings to the building owners.
Local news station LocalDVM was at the event and gave the following report!
"We are committed to combatting climate change and reversing the impact of the climate emergency we are now under. We know that this effort will require many plans and strategies. The Green Bank is one of those that is quickly making an impact." said County Executive Elrich.
"Revere Bank is pleased to have been able to make this investment in conjunction with our partnership with the Green Bank and we are proud to further expresses our commitment to clean energy investment in the County," said Revere Bank Co-President and CEO Ken Cook.
You can find the full video of the event here.