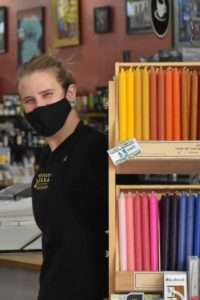 As our community continues to navigate the evolving COVID-19 pandemic, everyone is asking when can we return to our offices, restaurants, and stores. Reopening during a pandemic requires that business owners and property managers consider factors such as local restrictions, individual business plans, and health safeguards.
The Montgomery County Green Bank has been reaching out and listening to the needs, practices, and strategies of operating a business during COVID-19. And we are hearing that the health and safety of employees and customers is paramount. We are also hearing that businesses will only reopen when they are confident doing so will promote public safety.
Immediate practices such as cleaning and social distancing are integral to health and safety. Businesses are adding wipe-down routines, installing partitions, investing in disinfectant supplies, and emphasizing physical distancing to help employees and customers maintain healthy environments.
Businesses are also positioning properties for the longer term as they consider how to complete renovations proposed by health and engineering experts to mitigate virus exposure. These include enhanced HVAC air filtration, increased air flow and circulation, and ultraviolet radiation and ionization. The improvements can bolster the health and productivity of workplaces, employees, and customers, beyond what the immediate efforts of social distancing and hand sanitizers can provide. And these improvements have longer-lasting benefits: Beyond COVID-19, air filtration systems can help tenants manage flu transmission and offer other health benefits.
Undertaking such long-term improvements can strain capital budgets, particularly if the work has to be done to all properties at once and not on the pace of long-term capital improvement planning.
The Green Bank recognizes this potential strain, and wants to be a partner in enhancing your business's health and safety. In support of this need, the Green Bank developed the Small Business Energy Savings Support program. Businesses can access project loans of $10,000-$150,000 (greater amounts may be considered) with 5-year terms, low interest rates (3-5%), and flexible initial repayment options to fit your needs during the economic recovery.
The Green Bank also has the Commercial Loan for Energy Efficiency and Renewable Energy (CLEER) that can offer greater capital amounts for longer terms (up to 12 years), for projects where at least 70% of costs are related to energy systems.
All businesses interested in such financing should contact us.
Share This Story