Green Partners: RIFE International — Award Winning Energy Solutions
Welcome to our Green Partners series, highlighting our partners in the community that help make Montgomery County Green Bank a success.
We talked with Kwabena Osei-Sarpong, CEO of RIFE International, to learn about its latest successes and why they are proud to partner with the Montgomery County Green Bank.
---
Tell us about RIFE International and your work there.
Kwabena Osei-Sarpong [KOS]: RIFE International, LLC "RIFE" is an award winning full-service Energy Efficiency, Renewable Energy, Sustainable Development and Construction service firm with expertise in high-profile, complex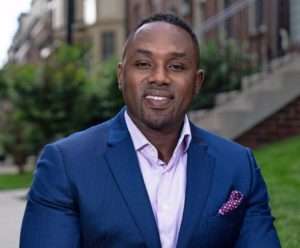 projects for government, institutional, and private sector clients.
We are a Green certified business which operates in the Mid-Atlantic U.S with other operations in emerging markets overseas. RIFE was named 2019 Leadership in Customer Satisfaction by Johnson Controls for our work in energy efficiency, a 2019 Top Energy Efficient Service Provider by Pepco & EmPOWER Maryland, has been an Export MD Grant recipient by Department of Commerce, and was selected as the 2015 Montgomery County Small Business of the Year.
As CEO, I set our vision with input from our leadership and lead our team to service our client needs through the use of our hallmark "Problem Solving and Partnering" approach to energy efficiency and renewable energy project implementation. My ultimate job is to make sure we exceed our clients' expectations, that my team members are happy and growing in their careers, and that our is organization meeting and exceeding the reasons for our existence.
---
Why do you choose to partner with the Montgomery County Green Bank as an Authorized Contractor with the CLEER program?
KOS: The CLEER program, with its diverse financial capacity and flexible terms with no upfront costs, allows our clients to start projects in relation to capital expenditure in a way that fits their financial structure and business without impacting cash flow negatively. The 30% non-energy related loan also complements our ability to provide the best service and value for money for our clients.
---
What's something exciting you're working on now?
KOS: We have been lucky to work on several unique and exciting projects from hotels to museums, educational institutions to hospitals, and office buildings to data centers. The most exciting project were working on at the moment is providing energy efficient lighting solutions at the Maryland Zoo and the Ashburton Water Treatment Plant. These are both very challenging yet exciting projects.
---
What are the top reasons your clients seek energy efficiency and/or renewable energy improvements?
KOS: The top three reasons include:
1. Savings in utility bills and operational costs
2. Environmental and health considerations
3. Increased efficiencies in facility operations and property values
Our clients often seek energy efficiency improvements due to cost and maintenance issues as a result of aging equipment or technology. In addition to the benefit of reducing operational expenses, clients also use the reduction in carbon emissions to show the public they are environmentally aware and demonstrate their efforts to positively impact climate change and reverse global warming.
What are the key decisions your clients make when moving a project forward?
KOS: The key decisions our clients make include understanding the value of the project and selecting a contractor with the requisite knowledge and experience to execute. We must demonstrate that we understand the impact the project may have on the client's operations and work on a joint plan to minimize interruptions – "this is always our focus as a contractor". Finally, we must understand and convey the added value of the financing or supplemental funding and ensuring it's not impacting their cash flows. Resolving these issues eventually lead to clients moving projects forward with us.
---
What benefits of CLEER do you most promote with your clients?
KOS: The flexibility of the CLEER program is one of its strongest benefits. From the ability to finance portions of the project that don't address energy efficiency (but meet other needs) to not requiring cash up-front, the program is a great way to make projects happen within the financial constraints of our customers.
---
March 2020