Delegate Lorig Charkoudian – Why I Installed Geothermal For My Home.
Welcome to our Green Homeowners series, highlighting homeowners in the community that have completed a renewable energy or energy efficiency project using Montgomery County Green Bank partner financing programs.
 We talked with Maryland State Delegate, Lorig Charkoudian, to learn about why she decided to install a geothermal renewable energy system for her home here in Montgomery County.
---
Tell us about yourself and how you are motivated about clean energy in your work or home life.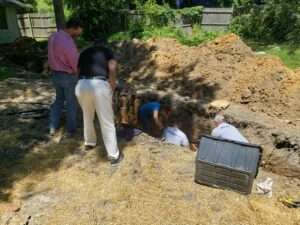 Delegate Charkoudian [DC]: I am committed to shifting my home, and the State of Maryland, to 100% clean energy
as quickly as possible! I work on the State policy as a member of the Maryland General Assembly. I work on switching my own home to clean energy by making investments and shifts when I can pull together the funds and financing. The Green Bank makes this more of a reality for me and others in Montgomery County by helping secure financing for these renewable energy and energy efficiency projects!
---
What clean energy project did you complete and why? What benefits do you anticipate from your project? How does this project fit with other clean energy efforts you have done?
DC: I recently had a ground source heat pump installed at my house to provide for my heating and cooling needs. This was a crucial part of my plan to move away from fracked gas usage. It is very important that we move towards electrifying everything that we can while we also move to clean up the electric grid by switching over to renewable energy sources. Ground source heat pumps also help reduce our peak electricity usage, or the amount of electricity pulled from the grid during peak use times, like in the evening when more people are using electricity.  Peak energy is usually provided by fossil fuel plant "peakers" and is usually the dirtiest and most expensive energy. While there are several solutions we need to incorporate to respond to peak energy usage, such as more battery storage and offshore wind, deploying more peak-shaving technology such as geothermal heat pumps is an important tool in that toolbox.
This geothermal heat pump helps with my transition away from natural gas, decreases my energy usage overall, and decreases my peak usage. My electricity comes from solar panels on my roof, a subscription to community solar, and clean energy from Clean Choice!
---
How did you think about paying for the project?
DC: I had been saving for a new air conditioning unit because I knew that the one that I had would need to be replaced soon. A combination of the money that I had saved, and the Montgomery County Green Bank's Clean Energy Advantage program allowed me to get this project done.
---
How did you find out about the Green Bank's Clean Energy Advantage program and how did it fit in to your needs for financing your project?
DC: I had been following the development of the Green Bank and I was pleased to see more funds directed toward financing clean energy projects. For my project, the Green Bank's option of having two separate loan terms was important. The current renewable energy federal tax credit is very helpful to make the project affordable, but it does not arrive for almost a year after I pay for the project. The Green Bank offered a short-term loan to cover the amount of the tax credit and a second, longer term loan for the rest of the funds needed.
Also, as I think about what efforts I want my money to support, I know that I want my loan payments to go toward additional financing of green energy projects. Had I gone with a loan from a traditional bank, my interest payments would be going into some larger fund in Wall Street, which might be financing any number of things, including possibly fossil fuels.
---
What benefits are you realizing from the project now that it has been installed?
DC: I am so warm and cozy right now with my ground source geothermal system! And I was so nice and cool this summer! I like to think of my warmth as Mother Earth wrapping her arms around me to keep me warm, since the warmth in my home is coming from the earth! I am also almost completely off using any fracked gas. Once I replace my stove and dryer, I will be able to disconnect completely from the fracked gas system!
---
Would you recommend the Green Bank financing program to a friend? If so, why?
DC: Absolutely! They are very easy to work with and they were very supportive throughout the project.
---
December 2020