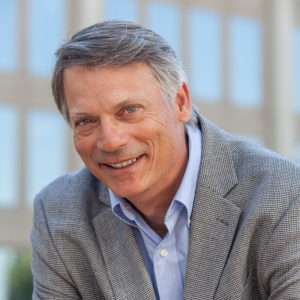 Tom Deyo is the inaugural Chief Executive Officer of the Montgomery County Green Bank (MCGB).  Tom brings his finance, operations, and mission-strong background to accelerate MGCB's goal of bringing greater access to clean energy and energy efficiency financing for households, businesses, and institutions in Montgomery County, MD.
Tom has over 30 years of experience in the for-profit and nonprofit sectors in financing and investment, technical assistance, knowledge building, and grant making in housing and community development and green programs.  Tom has established numerous initiatives and programs in green, community investment, and real estate development and management.   Tom has worked at the national level with financial services institutions and nonprofit intermediaries.  His work has delivered products and services to local civic and nonprofit organizations, with a focus on their low- and moderate-income constituents.
Tom joins MCGB from NeighborWorks America where Tom led its division focused on real estate development and management and green strategies for nine years.   Prior to NeighborWorks, Tom was at Fannie Mae for fourteen years where he worked extensively with the company's field operations and partners.  Tom worked throughout the company to advance tailored single-family and multifamily mortgage and investment products that responded to local market needs.
Tom has been a resident of Montgomery County for nearly 30 years.  He lives in Bethesda with his wife and they have two daughters who are graduates of Montgomery County public schools. Tom is a graduate of Loyola University of Chicago and University of Virginia.