Commercial and Industrial Financing Program
Are you a commercial or industrial property owner in Montgomery County, Maryland, looking to improve your business's bottom line through energy improvements to your property?
Are you in need of a flexible, no-money out, affordable loan to complete the funding for the project?
The Commercial Loan for Energy Efficiency and Renewables (CLEER) could be the right financing solution for you!
CLEER loan terms can be set to allow energy savings to offset the costs of financing the improvements — a cash flow win for your business!
Take a look at CLEER's many important benefits:
Achieve neutral to positive cash flow by aligning loan payments with dollars saved from energy savings
Loan amounts from $10,000 to $250,000
100% financing
No lien on property (based on credit)
Terms of up to 12 years
Up to 30% of the loan amount can go toward non-energy related aspects of the project.
Check out our brochure (in tri-fold PDF format) on all that CLEER offers!
Here's a sample project and how CLEER financing could make a difference: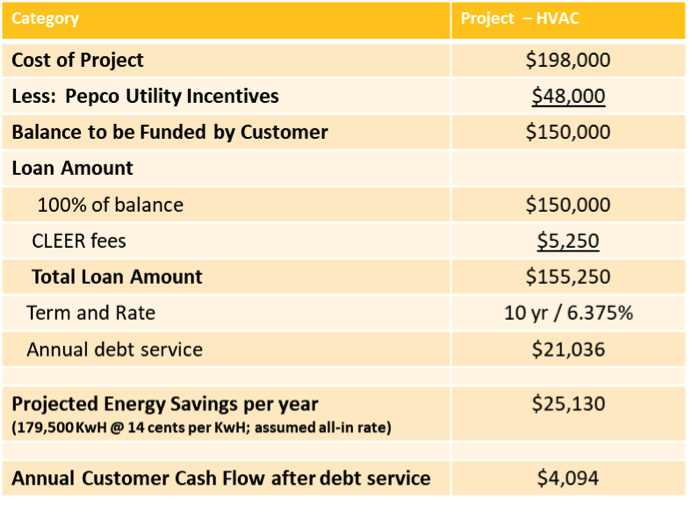 Loan terms can be set to allow energy savings to offset the costs of financing your improvements – potentially making your project costs neutral to your bottom line.
CLEER helps you finance costs that Pepco incentives or other grants do not fully cover in your scope of work, including solar PV and energy storage. All retrofit projects must include at least one Pepco Energy Savings for Business Program Measure. Your contractor can tell you more.
CLEER was created through a partnership with lenders. It is available through our current lending partners, Ascentium Capital LLC and Revere Bank. As a nonprofit helping Montgomery County businesses do more in energy efficiency and renewable energy projects, we set about creating this loan product to help you move ahead with your project on uniquely favorable terms.
Qualifying properties include:
offices
retail spaces
manufacturing sites
warehouses
multifamily rentals
common ownership communities (e.g., condominiums, cooperatives and planned unit developments).
Properties must be located in the Pepco service area of Montgomery County, Maryland, to be eligible. Loan proceeds can be used for a variety of energy efficiency measures – including all Pepco Energy Savings for Business Eligible Measures PLUS solar PV, Energy Storage, and HVAC (gas).
 There are so many reasons to make energy improvements to your commercial or industrial property! Energy efficiency and clean energy can have a huge impact by helping you:
Lower your energy bills
Create a more comfortable work or business environment
Increase your property value
Lower your impact on the environment
And much more!
Ready for the next step?
Contact a representative from a Participating Lender:
Mr. Josh Patton, Ascentium Capital LLC
Mr. Horacio Chacon, Revere Bank
Is Your Energy Efficiency Project Scope Greater than $250,000?
While some CLEER financings may be able to exceed $250,000, owners of properties considering large energy efficiency projects should also consider Montgomery County Commercial PACE.  While not a Montgomery County Green Bank product, you should explore it to determine if it suits your needs. Information on the County's PACE program may be found at the following link:  http://mocopace.wpengine.com/.